Light Reflective Value (LRV)
The Light Reflective Value (LRV) is a defined measurement that illustrates the amount of light that is reflected from a surface stated as a percentage. It places the lighter finishes at the higher end of the LRV scale with the darker finishes shown at the lower end.
Building designers and architects need to adhere to the relevant building regulations that will apply to the structure under consideration. There has been guidance in place since 2004 on the access to and use of buildings which is important for owners, landlords and occupiers to understand. This guidance is primarily focused on the provisions made to help disabled people, including those who are visually impaired that are visiting a building. This guidance document emphasises the importance that some surfaces and features "contrast visually" with their surroundings.
This visual contrast is particularly relevant to a range of non-residential buildings including:
Hospitals
Schools
Hotels
Theatres
The current regulated guidance, which is also highlighted in the BS8300:2009 codes of practice, is that sufficient visual contrast is required if the LRV of the contrasting surfaces exceeds 30 points. For example, the LRV contrast between the stair edging and the floor covering.
Stair Nosing Metal Finish LRV Percentage Values:
Stair Nosing Infill Colours & LRV Percentage Values:
---
Anti-Slip - Slip Resistance Value (SRV)
Our stair nosing is tested for Slip Resistance Value (SRV) to ensure it meets the BS7976-2: 2002 standards for both wet and dry conditions.
To help assess the risk of slipping on various surfaces, the UK Slip Resistance Group has drawn up a set of guidelines act a safety guide. The surfaces are tested by using a pendulum to "skid" over the surface, which the data can then be collected and stated as a value. This value is known as the Pendulum Test Value (PTV). The PTV values are then banded in to groups to illustrate whether a surface is a high, medium or low slip potential.

PTV Values for Brass Tacks Stair Nosing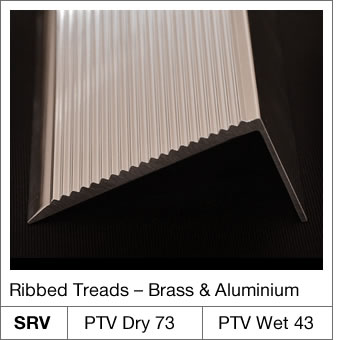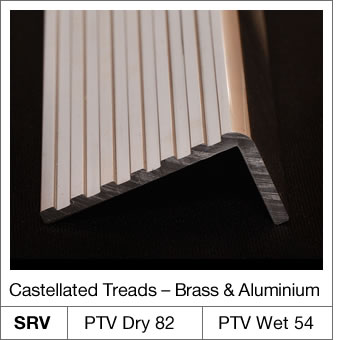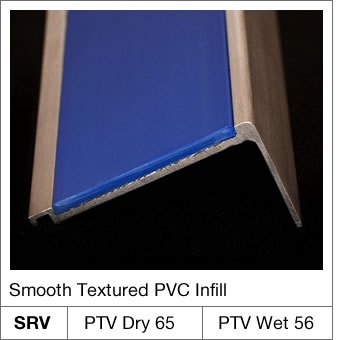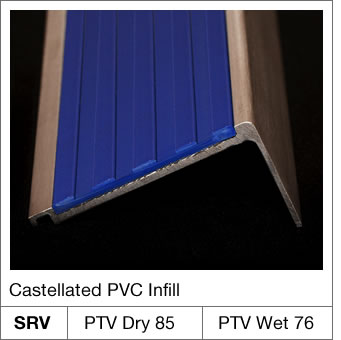 ---
Document M – Building Regulations
It is worth noting that it is important to understand and comply with the regulations laid out in the Approved Document M of the Building Regulations. This document covers the requirements of access to and use of buildings.
The requirements stated in the document apply if the following criteria are met:
That the building is a non-domestic building or a dwelling that is newly built;
That the building is an existing non-domestic building which has been extended or undergoes a material alteration; or
That it is a pre-existing building or part of a pre-existing building undergoes a material change of use to a hotel or boarding house, institution, public building or shop.
For reference, the terms 'institution', 'public building' and 'shop' are further explained in Regulation 2.
In addition to complying with the regulations stated in Document M Building Regulations, there will also be obligations and requirements stated under the Equality Act 2010 for service providers and employers to consider barriers created by physical features in buildings.
Approved Document M (England & Wales) recommends that stair nosing should be distinguishable through contrasting brightness. The statutory requirement refers to 'reasonable provision'. It would not necessarily be reasonable to require the nosing to be so clear to be distinguished by those with a very severe visual disability. That may only be possible by illumination, which is outside of the scope of the guidance in Approved Document M (England & Wales). The provisions are intended to apply in normal conditions where the stair is illuminated by either natural or artificial light. What constitutes 'distinguishable through contrasting brightness' is ultimately subjective but it can be achieved by nosing with: different colours, different shades or different reactive properties.
Recommended Dimensions of Stair Nosing
Building Regulations (K&M), BS8300 and BS9266 state that the Tread should measure 50-65mm and the Riser 30-55mm, to meet the requirements.
Brass Tacks offer a variety of brass stair nosing designs to suit all applications.
---
Bespoke Stair Nosing
We offer a bespoke service to supply stair nosing to exact sizes. For more technical information call 0208 866 8664.
---
Stair Nosing Quote